Im heutigen Deck-Feature stellt Friedrich Illbruck sein Deck vor, das in dieser Form nur einmal auf dem Arena-Cup gespielt wurde und mit dem er die Top Acht erreicht hat. Es basiert darauf, es anderen Decks möglichst schwierig zu machen, die eigenen Pokémon zu verletzen.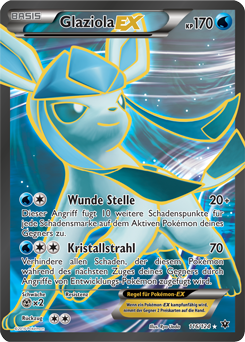 Kernpokémon sind Blitza-EX und Glaziola-EX. Das Blitza-EX aus Generationen fand Friedrich schon immer toll, da es nach seiner Attacke immun gegen Basis-Pokémon ist. Ergänzt wird dieses perfekt durch das neue Glaziola-EX aus Schicksalsschmiede, welches sich vor entwickelten Pokémon schützen kann.
Branawarz-EX, Arktos und Regice wurden, wie Friedrich selbst sagt, vom Deck des Deutschen Meisters Chrisowalantis Amanatidis inspiriert, ebenso das Top-Elixir zum schnelleren Aufladen mit Energien. Sie geben weitere Optionen, und Arktos verbessert das Matchup gegen Night March, welches nach Friedrichs Erwartung stark vertreten sein würde, noch weiter.
Durengard-EX ist primär als Antwort auf Decks mit Honweisel und Giflor enthalten. Da das Deck über viele verschiedene Basis-Pokémon verfügt, die teilweise wegen ihrer Attacken interessant sind, ist das neue Mew als flexibler Non-EX-Angreifer eine gute Idee.
Kampfgeistgürtel und Raue See machen die Pokémon, die ohnehin schon schwierig zu verletzen sind, noch zäher und widerstandsfähiger.
---
In our deck feature, Friedrich Illbruck shows his top-cutting deck, which has been played only once in this specific form. The idea of his deck is make it difficult for the opponent to even hurt the own Pokémon.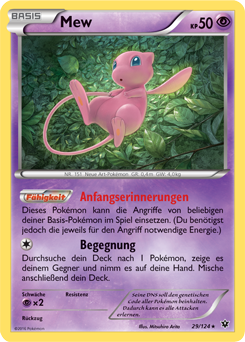 Jolteon-EX from Generations and Glaceon-EX from Fates Collide are the core of the deck. While Jolteon-EX' attack can make it immune to basic Pokémon, Glaceon-EX complements this by avoiding damage from evolved Pokémon.
As Friedrich states, Seismitoad-EX, Articuno and Regice are inspired by the deck of the German National Champion, Chrisowalantis Amanatidis. The deck also uses Max Elixir to power up energy faster. All of them grant additional options, and Articuno improves the Night March matchup, which Friedrich expected to face a lot.
Aegislash-EX fits the theme and serves mainly as an answer to Vespiquen/Vileplume. Since the deck has a lot of different basic Pokémon, the new Mew can act as a versatile non-EX-hitter.
Fighting Fury Belt and Rough Seas make the Pokémon, which are already hard to take down, even more tough.